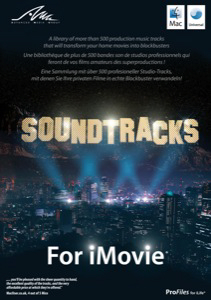 Products
AMG Soundtracks for iMovie (Box): £34.99

System requirements:
DVD drive
Mac OS X 10.2.6
2GB HDD

I agree with the
privacy policy
.
AMG Soundtracks for iMovie
Choose from a collection of 500 soundtracks to make your movie perfect
A huge library of 529 production music tracks that will transform your home movies into blockbusters!

'Soundtracks for iMovie' gives all of you iLife users and fanatics access to the background tracks that the pros use to make your home and personal projects SIZZLE!

Hollywood's top-tier film and TV music producers have put together this huge collection of 529 tracks to inspire your personal and academic projects and instantly give them that previously unattainable professional soundtrack to take them to the next level in an instant. Now there's no need to settle for cheesy music or chart hits that turn your project into a music video or amateur effort - you need soundtracks that build on your visuals, not detract from them. 'Soundtracks for iMovie' gives you a huge library of high quality music, specifically designed for use 'to picture' so that you never need to compromise with a soundtrack that's anything less than the pros demand.
Features:
529 specially-produced, top quality professional music tracks to use in all your multimedia productions
Quick and easy searching using iTunes tags - automatically integrated into your applications such as iMovie
Ideal for use with your movies, podcasts, slideshows, websites and much more - in fact any multimedia project
Licensed for personal use but with the option to license for commercial use if required