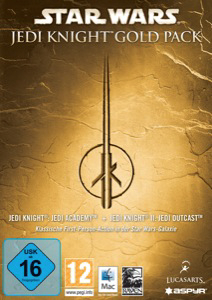 Products
Star Wars Jedi Knight II: Jedi Outcast (download): £6.65 (£6.99)
Star Wars Jedi Knight: Jedi Academy (download): £6.65 (£6.99)
Star Wars Jedi Knight™ Gold Pack (Box): £7.99 (£19.99)

System requirements:
DVD drive
Mac OS X 10.5
1.8GHz Intel Mac Core Duo
665MB HDD
512MB RAM
GeForce 7300/Radeon X1600 128MB VRAM
Important: Does not work with 10.7 or later




Does not work with OS X 10.7, 10.8 and above
I agree with the
privacy policy
.
Star Wars Jedi Knight™ Gold Pack
Jedi Knight: Jedi Academy & Jedi Knight II: Jedi Outcast in one box
Star Wars Jedi Knight: Jedi Academy
Take on the role of a new student eager to learn the ways of the Force from Jedi Master Luke Skywalker. Face the ultimate choice: fight for good and freedom, or follow the path to the dark side. Customize your character, construct your lightsaber and enter the Academy. Learn to wield two lightsabers or the famous Darth Maul double-bladed lightsaber. Explore new vehicles, weapons, Force powers, and Star Wars locations while choosing your own missions and adventures. Multiplayer modes including team-based siege mode and two-on-one power duel in several multiplayer arenas.

Star Wars Jedi Knight II: Jedi Outcast
As Kyle Katarn, agent of the New Republic, use the Force to combat a new evil plaguing the galaxy. Wield over 8 Force abilities including the Jedi Mind Trick,
Force Lightning and Force Grip, while choosing wisely from an arsenal of 13 weapons. Challenge other players online with or against a variety of AI Bots, gaining additional Force powers. Test your skills in single-player missions or in multiplayer games. Interact with legendary Star Wars characters, such as Luke Skywalker and Lando Calrissian, voiced by Billy Dee Williams.