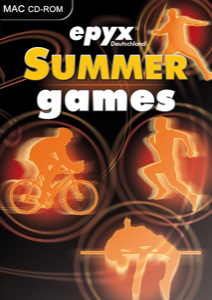 Products
epyx® Deutschland Summergames (Box): £24.99

System requirements:
Mac OS X 10.5
Mac OS X 10.7
1.5GHz G4
256MB RAM
GeForce 7300/Radeon 9600



Important: Does not work with macOS 10.15 (Catalina) and above

I agree with the
privacy policy
.
epyx® Deutschland Summergames
Summer Games on the Mac
You are a sportsman, competing in the Summer Games. You may show the world your skills in 10 different events. There is Rowing, 100m Sprint, Cycling Race and Archery and competition of up to 8 people! You can also prove your versatility in different kinds of sports like Hammer Throwing, Long Jump and High Jump.

Summer Games offers a modern look as well as a classic retro look of the 80's. Play alone against the computer or with up to three friends in multiplayer. You may pick between countries, starters, difficulty levels and the controls are freely configurable for each player, it doesn't matter if you prefer to play with keyboard, with mouse or joystick. Detailed statistics for training and competition show where you need to improve and where you already shine.

Get into your sneakers, grab your keyboard or a joystick and plan your strategy to break all records and get your medals!
Features:
10 different kinds of sports
Play against the computer or against friends
Single and team competitions
Retro or modern visuals
Adjustable controls with up to 4 players at one Mac