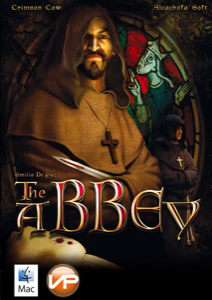 Products
The Abbey (box): £34.99

System requirements:
DVD drive
Mac OS X 10.4.11
1.7GHz Intel Mac Core Duo
3.1GB HDD
512MB RAM
GeForce 7300/Radeon X1600 128MB VRAM
Intel GMA X3100 is supported (not GMA950)
Internet connection for product activation required
I agree with the
privacy policy
.
The Abbey
The Abbey a mystery story and a classic point-and-click adventure
Thou shalt not kill!

An old abbey is the scene of a series of mysterious crimes, and only one man can get to the bottom of them. Former royal advisor Leonardo and his assistant Bruno are on their way to the remote monastery unknowing of the strange goings-on surrounding a carefully guarded secret. Yet even before they arrive there, their quest is overshadowed by an attempt on their lives...
Having reached the abbey, the two companions are confronted by one mystery after another, and the old walls stubbornly refuse to reveal their secrets. Piece by piece, Leonardo and Bruno uncover a plot that could shake not only the foundations of the monastery, but also those of the Church itself...
Features:
Innovative cinematic presentation through a new method of combining 2D and 3D graphics unique in a point-and-click adventure game
A complete reproduction of a medieval abbey, with architecture, works of art, secret passages, and treasures vast amounts of camera angles and scenes in 20 locations promise 20 hours of gameplay
Cinematic sound: music, effects, and top quality voice output completely in Dolby Surround Sound Over 70 minutes of orchestral soundtrack played by the City of Prague Philharmonic Orchestra