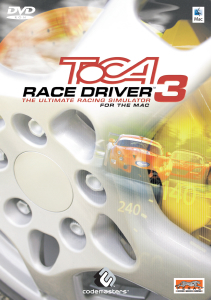 Products
ToCA Race Driver 3 (box): £19.99

System requirements:
DVD drive
Mac OS X 10.4.8
1.8GHz Intel Mac Core Duo
9GB HDD
512MB RAM
3D graphics card
I agree with the
privacy policy
.
ToCA Race Driver 3
Several racing modes create a great experience
ToCA Race Driver 3 mixes several different racing modes together to create an experience unlike anything else on the Mac with up to 21 vehicles per race.

World Tour:
World tour mode offers you a motorsport career with the freedom to jump from one motorsport discipline to another through a wealth of different championships.
This mode consists of mutiple tiers and within each tier you have several championships to choose from. In order to qualify for a new tier you must complete at least one of the objectives on the previous one.

Pro Career Mode:
Pro career mode focuses on truly mastering one individual motorsport at a time, it allows you to pick a motor racing discipline and play through each championship in a realistic manner with full race rules, calendars, flags, etc.

Multiplayer:
You can play the game with two player split screen or with upto 12 players using LAN or Internet connections.
All Multiplayer modes offer all of the customisation options available in single player mode for the best multiplayer experience on the Mac...

Simulation Menu:
In the Simulation Menu you can choose from the following options:

• Free Race: In Free Race you can set up the Championship to your own specification, down to the smallest of details such as selecting which tracks to race on, which rules and flags will be used, which opponents to race, etc. You can also elect to switch on full race events, and play through the entire Race Calendar for that Championship, including all of the practice and qualifying sessions.
• Discipline: Scroll left or right to select which discipline you want to race in. Above each discipline is a description detailing what sort of racing to expect.
• Championship: After selecting the discipline you are now ready to start setting up your Championship. You can then select which tracks you would like to race on, or select to race on the entire calendar. Once you are happy with the selected tracks you can choose which car you would like to use.
• Championship: Having selected the type of race, the tracks and the car you wish to use you can now adjust the finer details of your Championship.
• Time trial: Use time trial to set your best lap times on any of the circuits that you have unlocked from any of the Championships.

Features:
Over 70 licensed race cars.
Over 80 international circuits from around the world.
Most realistic damage in any Mac racing game.
Pro Career Mode: Choose from one of six racing disciplines and drive your way up to the ultimate racing machine
World Tour Mode: Takes you on an exhilarating tour through the game and lets you sample all the different racing styles on offer