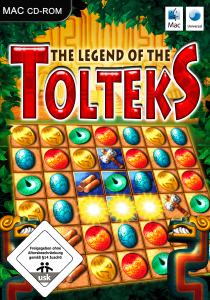 Products
The Legend Of The Tolteks (Box): £13.99

System requirements:
Mac OS X 10.4.11
Mac OS X 10.7
1.2GHz G4
256MB RAM
32MB VRAM



Important: Does not work with macOS 10.15 (Catalina) and above

I agree with the
privacy policy
.
The Legend Of The Tolteks
Puzzle- and brain game set in Quetzalcoatls Empire
In The Legend Of The Tolteks you return to Quetzalcoatl's Empire to rebuild the town Tollán.

Among the people of Toltec were many versatile craftsmen, great artists, and talented architects. You need to acquire all those skills to become a master of this fascinating and highly addictive puzzle game. Become a great architect and build pyramids and temples. The further you progress in game, the harder the tasks you have to complete get. In return, better and more advanced buildings become available as you move on in the game. Repopulate Tollán and up-hold it in a healthy condition.

It requires mind work and skill to gather lots of building points. Those are required to build something and to pay for your labor force. Save up building points by forming different items to triple figures. The construction of buildings brings a diverse selection of aids and appliances to ease your tasks. Use these aids to gather more treasures, holdings, and riches for your Empire.

Getting started in The Legend Of The Tolteks is easy and you may freely choose the difficulty level to get used to the principles of game, which are easy but challenging.

Become a master builder and bring back the shine to this long lost high culture by reviving Tollán.
Features:
More than 100 fantastic levels spanning 5 different eras
Simple access and adjustable difficulty level
Unique fun which is highly addictive