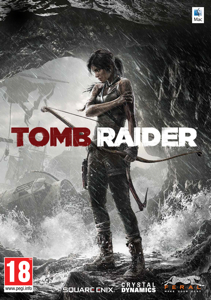 Products
Tomb Raider (Box): £14.99

System requirements:
DVD drive
Mac OS X 10.9
2GHz Intel Mac Core Duo
15GB HDD
4096MB RAM
512MB VRAM
The following graphics cards are not supported: ATI X1xxx series, ATI HD2xxx series, Intel GMA series, Intel HD3000, NVIDIA 7xxx series, NVIDIA 8xxx series, NVIDIA 9xxx series and NVIDIA 3xx series. Intel HD4000 cards require an Intel i7 CPU or better.
Download version does not require a DVD drive.
To activate Tomb Raider, you will need an internet connection and a free Steam account. If you do not already have a Steam account, please read the Steam Subscriber Agreement before buying the game.
I agree with the
privacy policy
.
Tomb Raider
A survivor is born
When a young Lara Croft is shipwrecked on an uncharted island, she enters a fight for survival armed with nothing but her instincts. Help Lara perfect her natural gifts as she embarks on a perilous journey to save her friends and escape the island's murderous inhabitants.

Scavenge vital resources, upgrade Lara's gear and improve her exploration, combat and survival skills to fight back against vicious enemies. Jump and climb through dense forests, treacherous mountains and WWII bunkers to discover how an ordinary young woman became Lara Croft, Tomb Raider.
Features:
Take control of Lara Croft and guide her progress from amateur archeologist to seasoned adventurer.
From death-defying leaps to grueling climbs, harness Lara's athleticism to carve a path through the untamed wilderness of a mysterious island.
Confront Yamatai's deranged inhabitants with a motley assortment of weapons - Lara will need to find new parts to turn them into truly devastating armaments.
Acquire advanced survival skills to forage for extra supplies and navigate almost impassable terrain.
Enhance Lara's combat prowess by mastering brutal takedowns to dispatch stunned enemies.
Salvage scrap to upgrade your equipment, such as rope arrows and the pry axe, then use them to access new areas and discover concealed treasure.
Delve into the island's disturbing past by hunting down lost diaries and defeating devious puzzle tombs.
Explore Yamatai's stunning locales; leap between rooftops in sprawling villages, creep through eerie caves and traverse the precarious bowels of ancient shipwrecks.
Take up arms as Lara's shipmates or the Yamatai scavengers and survive together in exhilarating online multiplayer.
TOMB RAIDER © 2013-2014 Square Enix Ltd. All Rights Reserved. TOMB RAIDER, CRYSTAL DYNAMICS, the CRYSTAL DYNAMICS logo, EIDOS, the EIDOS logo and LARA CROFT are registered trademarks or trademarks of Square Enix Ltd. SQUARE ENIX and the SQUARE ENIX logo are registered trademarks or trademarks of Square Enix Holdings Co., Ltd. All rights reserved. Uses FMOD Ex Sound System © 1994-2014 Firelight Technologies Pty Ltd. Uses Scaleform GFx © 2013-2014 Scaleform Corporation. Developed for and published on the Mac by Feral Interactive Ltd. Mac and the Mac logo are trademarks of Apple Inc., registered in the U.S. and other countries. Feral and the Feral logo are trademarks of Feral Interactive Ltd. All other marks are property of their respective owners. All rights reserved.