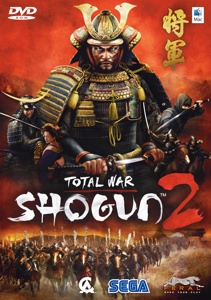 Products
Total War: SHOGUN 2 (Box): £24.99

System requirements:
DVD drive
Mac OS X 10.9
1.8GHz Intel Mac Core Duo
25GB HDD
4096MB RAM
256MB VRAM
The following graphics cards are not supported: ATI X1xxx series, ATI HD2xxx series, Intel GMA series, Intel HD3000, NVIDIA 7xxx series, NVIDIA 8xxx series, NVIDIA 9400 and NVIDIA 3xx series. The following cards require you to have 8GB of system RAM: Intel HD4000.
Other Requirements: Initial installation requires one-time Internet connection for Steam authentication; software installations required (included with the game) include Steam Client.
Internet Connection and acceptance of Steam™ Subscriber Agreement required for activation. See www.steampowered.com/agreement for details
I agree with the
privacy policy
.
Total War: SHOGUN 2
The supreme art of war
As leader of one of nine competing clans, use political ambition, military brilliance and ruthless cunning to unify 16th century Japan under one undisputed shogun: you. Master your clan's unique martial strengths to triumph in spectacular real-time battles and dominate the turn-based campaign map.

With strategic gameplay inspired by the Samurai code of honour and striking graphics that evoke Japanese art and landscape, Total War: SHOGUN 2 is a dramatic and detailed depiction of epic events and a unique expression of the Total War series' magnificent heritage.
Features:
Command samurai, ninja and warrior monks in spectacular real-time battles across snowcapped mountains, around fortified hilltop citadels and through fields garlanded with cherry blossom.
Assert your dominance over a turn-based campaign map by developing infrastructure, researching new technologies and using clever diplomacy and covert agents to bend rival clans to your will.
Act wisely in your negotiations, display mercy on the battlefield and follow the ancient ways of Bushido and Chi to earn honour, strengthen your generals' bonds of loyalty and improve your status with other clans.
Refine your strategy with the help of an in-game encyclopaedia containing both gameplay information and historical detail, then execute it using an intuitive and beautiful interface inspired by Japanese woodcut prints.
Challenge human opponents online in Mac-Mac multiplayer battles, form alliances in co-operative campaigns and embark on epic clan-based warfare in "Avatar Conquest" mode, in which you team up with other players to claim territories across a unique campaign map.
© SEGA. Creative Assembly, the Creative Assembly logo, Total War, Total War: SHOGUN and the Total War logo are trademarks or registered trademarks of The Creative Assembly Limited. SEGA and the SEGA logo are trademarks or registered trademarks of SEGA Corporation. Developed and published on the Mac by Feral Interactive Ltd. Mac and the Mac logo are trademarks of Apple Inc., registered in the U.S. and other countries. Feral and the Feral logo are trademarks of Feral Interactive Ltd. All other trademarks and copyrights are the property of their respective owners. All rights reserved.