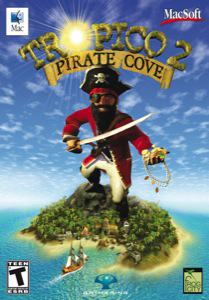 Products
Tropico 3: Gold Edition (Box): £17.49
Tropico 4: Gold Edition (Box): £24.95
Tropico 2 - Pirate Cove (Box): £29.99

System requirements:
Mac OS X 10.2.8
800MHz G4
1.8GB HDD
256MB RAM
32MB VRAM




Does not work with OS X 10.7, 10.8 and above
I agree with the
privacy policy
.
Tropico 2 - Pirate Cove
A carribean strategy game with pirates and treasures
Plunder everything as the pirate king on an island full of scurvy crew, nasty brew and wenches too!

Tropico 2®: Pirate Cove is the sequel to the award-winning Fun in the Sun Caribbean simulation, Tropico®. As a Pirate King, rule a secret pirate island full of despicable 17th century Sea Dogs. Fuel your economy by plundering wealthy merchant ships and taking prisoners back to the island as captive workers. Keep your scurvy buccaneers satisfied with rowdy gambling, jolly feasting, and barrels of rum! World powers fear you, brigands respect you, captives obey your every command, and don't forget about the wenching! Argh, thar ain't nuttin like bein' a Pirate King!

The story thus far...
You've escaped from servitude on a tobacco plantation and made your way to an island outside the reach of the law. Due to your wit and sophistication, the buccaneers on the island elect you their leader. You rule, for now. The question is, how to stay in power, and how to become fabulously wealthy?

Whatcha gonna do with a drunken sailor?
To get your pirate economy moving, you'll use your captives to produce weapons at the smithy and cannon foundry, mighty galleons or frigates at the shipyard, as well as rum, beer, and fancy pastries for your pirates to devour.
Meanwhile, watch out for escapes and captive revolts; an island with few captives working won't produce much of value. It can be tricky to balance the pirates' insistence on no laws or rules with the need to keep the captives in check. Hiring some pirates as overseers and guards helps meet this challenge. Your pirate crews can learn skills like sword fighting and cannon aiming. And you can also improve pirates' skills in port by building pirate schools and ordering them to attend. You can even use your growing wealth to bribe great pirate captains to work for you. These leaders, like Blackbeard or Henry Morgan, really know how to get the most out of a crew. The pinnacle of pirate success - which few pirate rulers ever achieve - is to intercept and plunder one of the great Spanish treasure fleets. You'll be set for life if you can do it. But you'll need a large fleet, well-trained crews and captains, superior intelligence, and an unrelenting streak of good luck.