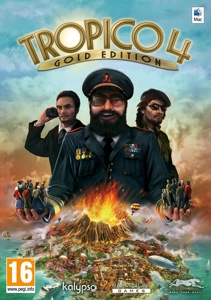 Products
Tropico 3: Gold Edition (Box): £17.49
Tropico 4: Gold Edition (Box): £24.95
Tropico 2 - Pirate Cove (Box): £29.99

System requirements:
DVD drive
Mac OS X 10.7
2GHz Intel Mac Core Duo
6GB HDD
4096MB RAM
256MB VRAM
The following graphics cards are not supported: ATI X1xxx series, ATI HD2xxx series, Intel GMA series, NVIDIA 7xxx series and NVIDIA 8xxx series. The following cards require you to have 8GB of system RAM: Intel HD3000, NVIDIA 9400, Intel HD4000 and NVIDIA 320M.
Download version does not require a DVD drive.



Important: Does not work with macOS 10.15 (Catalina) and above

I agree with the
privacy policy
.
Tropico 4: Gold Edition
Return to power with Tropico 4: Gold Edition!
Congratulations! You're the newly-elected, all-powerful "Presidente" of the proud Caribbean nation of Tropico. Taking the reins for another glorious term on your sunny island is all well and good, but do you have what it takes to become a serious player on the world stage?

Whether you choose to rule as benevolent chairman, clever technocrat or corrupt despot, it's up to you to transform Tropico from amusing banana republic into a 21st century world power worthy of your grand vision in this witty combination of city builder and political simulator.
Features:
Create your own paradise by developing Tropico the way you want! Choose from over 100 buildings and turn your island into a top holiday destination, an industrial powerhouse, a police state or all three.
All of the people, all of the time. Balance the noisy demands of Tropico's own political factions with the distant rumblings of wealthy superpowers while staying friendly with overseas trading partners.
Life on a tropical island isn't all sunshine and piña coladas! Prepare to face natural disasters such as volcanos, tsunamis and hurricanes.
Take on the challenge of a 20-mission Campaign Mode or enjoy power without responsibility in Sandbox Mode!
Appoint your favourite citizens to ministerial posts to implement your government program.
March Tropico into the 21st century with the Modern Times expansion pack: launch a space program, control Internet access and build architectural showpieces such as the diamond cathedral and "Babel Tower".
Copyright (c) 2011-2013 Kalypso Media Group. Tropico is a registered trade mark of Kalypso Media GmbH used under license by Feral Interactive. All rights reserved. Originally published by Kalypso Media UK Ltd. Developed for and published on the Mac by Feral Interactive Ltd. Feral and the Feral logo are trademarks of Feral Interactive Ltd. Mac and the Mac logo are trademarks of Apple Inc. registered in the U.S. and other countries. All other logos, copyrights and trademarks are property of their respective owners. All rights reserved. Product of the E.U.