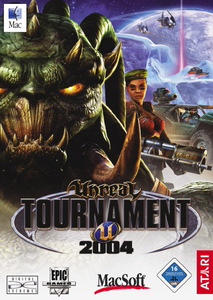 Products
Unreal Tournament 2004 (Box): £24.99

System requirements:
DVD drive
Mac OS X 10.2.8
933MHz G4
6GB HDD
256MB RAM
32MB VRAM
I agree with the
privacy policy
.
Unreal Tournament 2004
Amazing multiplayer shooter in 3D.
Unreal Tournament 3 marks the return of the world's premiere first-person shooter to the PC, and its debut on PlayStation® 3. Unreal Tournament 3 unleashes the full power of Unreal Engine 3, taking graphics, gameplay, and challenge to a whole new level. Players engage in intense battles with other human players online, or against Unreal artificial intelligence that sets the industry standard. With the most powerful futuristic weapons and vehicles available, this is FPS action at its best!
Features:
LAND, AIR AND SPACE VEHICLES
We introduce the Unreal Tournament range of vehicles: Pleasing to the eye, powerful to the touch, punishing to the enemy. With vehicles ranging from single-man fighters to five-man behemoths, Unreal Tournament 2004 provides players with plenty of choices when shopping for a mechanized implement of destruction
NEW GAME MODES
Assault Mode
Assault mode returns! Redesigned for UT2004, this fan-favorite mode sees teams face off to defend and attack fortified bases -- from fast-moving trains barreling across an arid alien desert, to a Skaarj mother ship poised to attack the human home world.
Onslaught Mode
Team combat on the next level! Opposing teams are pitted against each other to capture and hold strategic points. Taking place in massive outdoor environments, here is where vehicular combat comes into its own. Flying and driving machines take combatants to the front line and gigantic mobile battle stations serve as a platform from which to launch devastating attacks.
95 DIFFERENT MAPS
More than 95 maps will be available immediately, including more than 45 brand-new maps for every existing and new gameplay mode. Vast outdoor environments, deep space combat areas and tightly packed indoor techno-arenas are all waiting for the latest entrants to the Tournament.
UNREAL TV
Hundreds of spectators can log on and watch famous combatants and rival clans duke it out.
UNREAL TECHNOLOGY
Unreal Tournament 2004 delivers a faster, slicker, deeper experience than ever before through new technology features like:
Improved AI: Vehicle control, advanced dodging and wall-dodging, improved aim, better team coordination.
Deeper single player mode with comprehensive team management options, challenge matches, multiple endings and more.
Integrated map vote and match set-up for Internet play.
Re-designed HUD, improved weapons effects (bullet decals, incredible explosions), improved first-person weapon rendering, new announcer voices, rendering optimizations...the list goes on!