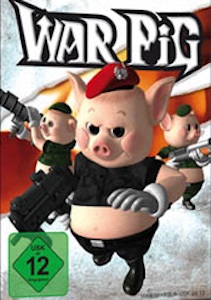 Products
War Pig (download) (Box): £9.95 (£10.49)

System requirements:
Mac OS X 10.5.8
2GHz Intel Mac Core Duo
256MB RAM
GeForce 8600/Radeon X1600



Important: Does not work with macOS 10.15 (Catalina) and above

I agree with the
privacy policy
.
War Pig
Challenging strategy game for the whole family
Your mission is simple: Destroy the enemy team - thats all! It is your choice how to complete this task and what it takes to do it. You should, however, apply some tactics, because every move you make, will be answered with retaliation. Take care not to lose too many fighters a round.

Well, ... you just need to be always a little MORE EVIL than your opponent!

Select the currently most useful from more than 30 different kinds of weapons. Read the manual because if you use them wrongly, you could easily make goulash from your own pigs. Up to four teams with six players each may play together in free-play or in many missions.

War Pigs sizes are adjustable (bigger does not always mean better here), and in the options you may trade health against time and vice versa. If you believe that you will be able to plan quickly, you may increase your health against time. This may work out well, but it does not have to... Select a fighting name and a color for your unit, take a deep sip from the trough and off you go to battle.