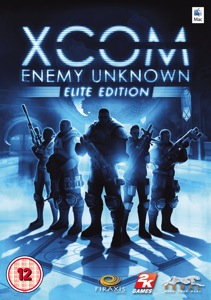 Products
XCOM: Enemy Unknown - Elite Edition (Box): £19.99

System requirements:
DVD drive
Mac OS X 10.8
Mac OS X 10.9
2GHz Intel Mac Core Duo
15GB HDD
4096MB RAM
256MB VRAM
The following graphics cards are not supported: ATI X1xxx series, ATI HD2xxx series, Intel GMA series, NVIDIA 7xxx series and NVIDIA 8xxx series. The following cards require you to have 8GB of system RAM: Intel HD3000, NVIDIA 9400 and NVIDIA 320M.





Important: Does not work with macOS 10.15 (Catalina) and above

I agree with the
privacy policy
.
XCOM: Enemy Unknown - Elite Edition
XCOM, the Extraterrestrial Combat Unit - humanitys last hope
An electrifying combination of turn-based tactics, global strategy and sophisticated role-playing, XCOM: Enemy Unknown - Elite Edition puts you in charge of XCOM, a top-secret military organisation responsible for defending Earth from a devastating alien invasion.

Take command on the battlefield while you simultaneously develop XCOM's headquarters, train and equip its forces and negotiate with national governments. As civilian attacks and abductions work to create worldwide panic, you must outsmart and overpower your mysterious enemies before government funding for XCOM dries up completely.
Features:
A beautifully realised re-imagining of the groundbreaking classic X-COM: UFO Defense.
Command XCOM's soldiers in tense turn-based battles where each decision could be the difference between game-changing gains or devastating losses for humanity.
Expand the XCOM base, manage its resources, oversee international relations and control Earth's satellite coverage and air defenses.
Recruit, customise and equip an elite squad, then upgrade each soldier's unique skills and abilities as they gain experience in the field.
Recover artifacts from battle and use them to research and build powerful technologies that can be turned against the invaders.
Mix and match aliens and soldiers to create powerful squads in LAN and online multiplayer.
XCOM: Enemy Unknown - Elite Edition includes the Slingshot and Elite Soldier Pack add-on content, as well as the Second Wave update, which includes a series of gameplay modifiers that add further depth and flexibility to the campaign.
© 1994-2013 Take-Two Interactive Software, Inc. Take-Two Interactive Software, Inc., 2K, 2K Games, Firaxis Games, XCOM, and XCOM: Enemy Unknown, and their respective logos are trademarks of Take-Two Interactive Software, Inc. Developed for and published on the Mac by Feral Interactive Ltd. Unreal® is a registered trademark of Epic Games, Inc. Unreal® Engine, Copyright 1998-2013, Epic Games, Inc. This software product includes Autodesk® Scaleform® software, © 2013 Autodesk, Inc. Autodesk, and Scaleform are registered trademarks or trademarks of Autodesk, Inc., and/or its subsidiaries and/or affiliates in the USA and/or other countries. Dolby and the double-D symbol are trademarks of Dolby Laboratories. DTS and the DTS Symbol are registered trademarks of DTS, Inc. and DTS Digital Surround is a trademark of DTS, Inc. Mac and the Mac logo are trademarks of Apple Inc., registered in the U.S. and other countries. Feral and the Feral logo are trademarks of Feral Interactive Ltd. All other trademarks and copyrights are the property of their respective owners. All rights reserved. The content of this videogame is fictional and is not intended to represent or depict an actual record of the events, persons, locations, or entities in the game's setting. The makers and publishers of this videogame do not in any way endorse, condone or encourage engaging in any conduct depicted in this videogame.