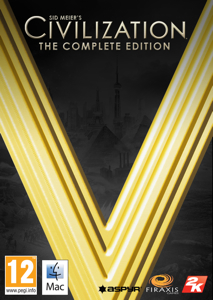 Products
Civilization V (Box): £9.99 (£19.99)
Civilization V: Gods and Kings Expansion Pack (download): £18.95 (£19.99)
Civilization V: Brave New World (download): £19.99
Civilization V Gold Edition (download): £34.99
Civilization V: Game Of The Year Edition (Box): £19.99 (£34.99)
Civilization V: The Complete Edition (Download): £34.99

System requirements:
Mac OS X 10.7 / Mac OS X 10.8 / Mac OS X 10.9
2.4GHz Intel Mac Core Duo
8GB HDD
2048MB RAM
256MB VRAM
Supported Video Cards: NVIDIA GeForce® 8800, GT 120, 320M, 330M, 650M, 640M, 660M, 675MX, 680MX, 750M, 755M, 775M, 780M. ATI Radeon HD 2600, HD 3870, HD 4670, HD 4850, HD 5670, HD 5750, HD 5770, HD 5870, HD 6630, HD 6490, HD 6750, HD 6770, HD 6970. Intel HD Graphics 3000, 4000, 5000, Iris, Iris Pro
Other Requirements: Initial installation requires one-time Internet connection for Steam authentication; software installations required (included with the game) include Steam Client.
Internet Connection and acceptance of Steam™ Subscriber Agreement required for activation. See www.steampowered.com/agreement for details
I agree with the
privacy policy
.
Civilization V: The Complete Edition
The Complete Civilization V Experience!
Sid Meier's Civilization V: The Complete Edition is the definitive Civilization V collection for Mac gamers who have yet to experience the famous "just-one-more-turn" addictive gameplay that has made Civilization one of the greatest game series of all time. The Complete Edition includes the original 2010 Game of the Year award-winning strategy game Sid Meier's Civilization V, plus the two critically-acclaimed expansion packs (Gods & Kings, and Brave New World) and all of the released add-on content in one complete package for an amazing value.
Features:
ENDLESS REPLAYABILITY: Play as one of 43 historical leaders and wage war by land, sea, and air, conduct diplomacy & espionage, establish religious beliefs, and discover new technologies in your quest to build the most powerful empire the world has ever known.
HUGE BATTLES: Wars between empires spread across land and sea. Ranged bombardment challenges you to develop clever strategies to guarantee victory on the battlefield.
DIPLOMACY: Negotiate with some of history's most cunning rulers, each with a well-crafted plan for victory. City-states present a diplomatic battleground on which the major powers of the world will vie for supremacy.
RELIGION: Cultivate Great Prophets and create a religion you can customize and enhance.
ESPIONAGE: Send your spies into foreign cities for surveillance, to steal advanced technologies from your competitors, or to interfere with city-state alliances.
INTERNATIONAL TRADE: Build your cities into hubs of international trade by land and sea, creating great wealth and prosperity for your people.
MULTIPLAYER: Challenge other players to become ruler of the world.
The Complete Edition includes:
Sid Meier's Civilization V
Civilization and Scenario Pack: Polynesia
Sid Meier's Civilization V: Gods & Kings
Civilization and Scenario Pack: Korea
Sid Meier's Civilization V: Brave New World
Wonders of the Ancient World Scenario Pack
Civilization Pack: Babylon (Nebuchadnezzar II)
Cradle of Civilization - Asia map
Civilization and Scenario Pack: Denmark - The Vikings
Cradle of Civilization - Mesopotamia map
Double Civilization and Scenario Pack: Spain and Inca
Scrambled Continents Map Pack
Cradle of Civilization - Mediterranean map
Scrambled Nations Map Pack
Cradle of Civilization - Americas map
Conquest of the New World Deluxe Scenario
Explorer's Map Pack