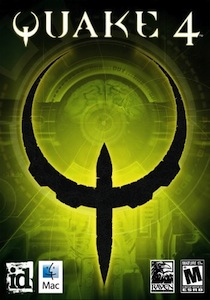 Products
Quake 4 (download): £13.99
Quake 4 (Box): £4.99 (£19.99)

System requirements:
DVD drive
Mac OS X 10.5
1.7GHz Intel Mac Core Solo
1024MB RAM
Minimum system requirements for download version:
10.6.8, 10.7.3
CPU Processor: Intel Core 2 Duo (Dual-Core)
CPU Speed: 2.4 GHz
Memory: 2 GB
Hard Disk Space: 3.5 GB
Video Card (ATI): Radeon HD 2600
Video Card (NVidia): Geforce 8600
Video Memory (VRam): 256 MB
Peripherals: Macintosh mouse and keyboard
Supported Video Chipsets
NVIDIA GEFORCE 8600, 8800, 9400, 9600, GT 120, 320M, 330M
ATI RADEON HD 2600, HD 3870, HD 4670, HD 4850, HD 5670, HD 5750, HD 5770, HD 5870, HD 6630M, HD 6750M, HD 6770M, HD 6970M
Intel HD Graphics 3000
NOTICE: The following video chipsets are unsupported by Quake 4
ATI RADEON X1000 Series
NVIDIA 7000 Series
Intel Integrated GMA 950
Intel Integrated x3100
I agree with the
privacy policy
.
Quake 4
High class first person shooter experience
In a Desperate War for Earth's Survival, The Only Way to Defeat Them is to Become One of Them

Earth is under siege by the Strogg, a barbaric alien race moving through the universe consuming, recycling and annihilating any civilization in their path. In a desperate attempt to survive, an armada of Earth's finest warriors is sent to take the battle to the Strogg home planet.

You are Matthew Kane, an elite member of Rhino Squad and Earth's valiant invasion force. Fight alone, with your squad, or in hover tanks and mechanized walkers as you engage in a heroic mission to the heart of the Strogg war machine.

Features:
Built on id Tech 4 (the Doom 3 engine)
Sequel to the Quake 2 storyline
Battle outdoors using tanks and walkers
Fight with the support of an elite squad
Compete online in fast action, arena-style multiplayer