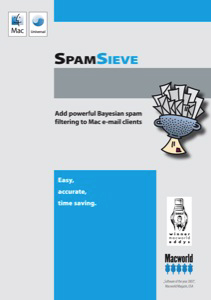 Products
SpamSieve (Box): £22.99

System requirements:
Mac OS X 10.7 / Mac OS X 10.8 / Mac OS X 10.9
Mac OS X 10.10 / Mac OS X 10.11 / Mac OS X 10.12 / macOS 10.13 / macOS 10.14 / macOS 10.15
1GHz Intel Mac Core Solo
16MB HDD
128MB RAM
An e-mail client: Apple Mail, Emailer 2.0v3, Entourage v.X (2001) and later, Eudora 5.x or 6.x, GyazMail 1.2.0 and later, Mailsmith 2.2, Outlook Express 5.0 and later, Powermail 4.0 and later, Thunderbird 1.5.0.0 or 2.x

Downloads

SpamSieve (electronic version) and update

Link for the latest version of SpamSieve. This version can be used as a demo. A valid license is necessary to use this version after the demo period is over. You can buy a license if you click here.
Click here to start downloading.