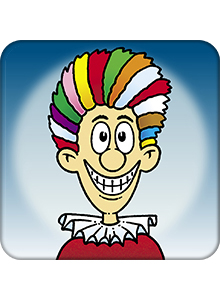 Products
Café International Solo iOS: FREE
Café International for Android: £2.69
Café International for iOS: £2.99
Café International 2 (Mac/Win): £4.99

System requirements:
iOS 5 or higher
Universal App for iPhone, iPod touch, and iPad
Press quotes
This is how the press looks at Café International:

"AppZapp blog", Rating: 5 out of 5 - "Conclusion: the app completely captures all the fun that the board game offered. It may be played individually or 4 players may look for opportunities to place the guests in the right spot." - 3 Plus, no Minus, AppZapp blog, 02.08.2012
Read the review



"fun2tap.com", Rating: 4.5 out of 5 - "An award-winning board game is a perfect recipe for a game app very much like a best-selling novel being adapted to a motion picture. If you or your kids are into puzzles and card games then this app is for you.", fun2tap.com, 26.11.2012
Read the review



"midlife gamer", MLG Rating: 8/10 - "One of the great things about Café International is whether you are a beginner learning the game or a diehard fan wanting to experience a full on strategic challenge you can tailor the game to suit your needs by changing not only the difficulty of the AI opponent but also how many opponents you face. (...) By importing not only Cafe Internationals classic gameplay but also adding single player elements into the mix, Application Systems Heidelberg have released a well polished addition to the digital board game genre which will be an excellent purchase for fans of either strategy board games or for the quick fix of toilet gaming.", midlifegamer.net, 22.08.2012
Read the review



"AppTudes", Rating: 4 of 5 - "With great gameplay, clean Retina presentation, and bonuses like single-player modes and Game Center achievements, Cafe International is arguably better than its cardboard counterpart - especially without having to clean up afterward. A great addition to any family's digital board game collection, or fans of strategy board games looking for something a little lighter.", AppTudes, 13.08.2012
Read the review



"MobileTechReview", - "Conclusion: Cafe International is a solid iOS remake of a popular Euro Boardgame from the 1980s. Gameplay is easily understood, but the strategy is deep, which should keep you coming back to this one for a while. (...) Give yourself a few games to get the hang of it." - MobileTechReview blog, 15.09.2012 br> Read the review

>>

Awarded by iphone.qualityindex.com as "Finest Game Publisher August 2012" based on great 9.2 average ratings for Café International.



"iPhoneLife Magazine", - "Solitaire for cafe addicts, with an offbeat 80s feel... That's my impression of Cafe International. Uh, how many restaurants or shops are seating lone international guests specifically by nationality or gender? None that I know of, but that really isn't the point. The point of Cafe International is good old pattern-matching fun with a multi-player twist that everyone can enjoy.", Nate Adcock, 01.09.2012
Read the review



"Geeks with Juniors", "As a board game geek, I always appreciate it whenever a board game has been ported to iOS. That way, it's easier for me to set up, find opponents and clean up afterwards. That said, Cafe International for iOS is an excellent way to experience a classic (and out of print) board game with friends and family." - , Geeks with Juniors, 01.08.2012
Read the review



"iX - Heise Developer", "Why would I feature this game in my heise developer blog? Café International is a very good game and one of the best board game adaptions that I have ever seen on tablets. This is a great example for app developers of board game adaptations: The first positive aspect is the faithfulness of the graphics to the original board game look & feel. The game has no gimmicks or unnecessary 3D effects. The computer opponents are neither totally stupid nor invincible. My impression is that the developers of this game knew the board game really well and that the motto of this port was "quality above everything". Whoever adopts these rules and uses a great board game as a foundation will succeed.", German review in Kais bewegtes Web 09.08.12 - von Kai König
Read the review (German)



"Stromstock", Rating: 4 of 5 - "After 25 years Café International still is amazing - also for player who never played the board game and make their first experience with the game on the iPad.", Stromstock, 06.08.2012
Read the review (German)