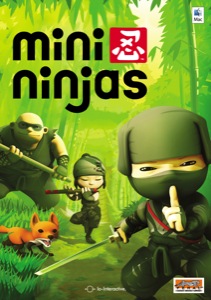 Products
Mini Ninjas (Box): £6.99

System requirements:
DVD drive
Mac OS X 10.5
1.4GHz Intel Mac Core Duo
6GB HDD
1024MB RAM
GeForce 8600/Radeon HD2400 128MB VRAM
The game does not support Intel GMA integrated video chipsets (older Mac minis and MacBooks), but does run on GeForce 9400M graphics cards or better.
Full system requirements are available on the Mini Ninjas mini-site at feralinteractive.com/minininjas .
If you encounter problems playing the game, please visit support.feralinteractive.com and contact our support team. This allows us to deal with your issue quickly, and helps us to improve our games.
The characters depicted in this game are fully qualified Ninjas, and any attempt to wield large wooden hammers, chop trees in half or gain magical control of family pets is discouraged.



Important: Does not work with macOS 10.15 (Catalina) and above

I agree with the
privacy policy
.
Mini Ninjas
The biggest danger - the smallest hero!
Introducing the world's smallest heroes. Download the demo for free from downloads.feralinteractve.com!

Join Hiro and his Mini Ninja friends as they journey through spellbound lands to do battle with the Evil Samurai Warlord and his magical armies.

Brimming with inventiveness and full of fun, the game offers delightful characters in a beautifully animated world. Whether you're using Hiro's magic, Futo's might, Suzume's stealth, or another path entirely, you're sure of an experience that is enticing, exciting and funny. With a charming visual style and open-ended gameplay that encourages exploration, Mini Ninjas gives younger players a light-hearted yet epic adventure, free of gruesome violence and high on magic.

Features:
Six playable ninja characters - Players can switch easily between any one of the six incredibly cute ninjas, each with different skills, weapons and moves.
Epic open-ended level design - Environments are lush with a wide open feel and plenty of encouragement for players to explore every corner of a beautifully imagined world.
Control the animals of the forest - Throughout their quest the Mini Ninjas encounter a number of different animals from chickens to foxes, frogs, raccoons, and bears. Use Kuji magic to possess these animals and use their abilities in the fight against the Evil Samurai Warlord!
Superb style - Mini Ninjas evokes a magical Japan with a simple but charming visual style and authentic music - the design is a labour of love that has produced an accessible and enjoyable game.
Mini Ninjas © 2009-2011 Square Enix Ltd. Published by Square Enix Ltd. Developed by IO Interactive A/S. Mini Ninjas and the Mini Ninjas logo, Square Enix and the Square Enix logo are trademarks of Square Enix Ltd. IO Interactive and the IO logo are trademarks of IO Interactive A/S. Mac and the Mac logo are trademarks of Apple Inc. registered in the U.S. and other countries. Feral and the Feral logo are trademarks of Feral Interactive Ltd.