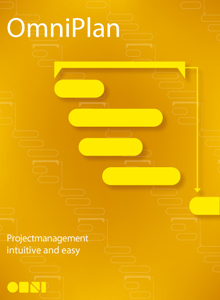 Products
OmniPlan 3 (download): £149.99
OmniPlan 3 Pro (download): £305.00

System requirements:
Mac OS X 10.10
Mac OS X 10.11
The current version of OmniPlan 3 requires at least Mac OS X 10.10.

I agree with the
privacy policy
.
OmniPlan 3 Pro
Projectmanagement intuitive and easy
OmniPlan is a program designed to help you create logical, manageable project planning documents. With OmniPlan you can break down tasks, optimize the resources needed for your project, control costs, and monitor your entire project at a glance. OmniPlan provides features like Gantt charts, schedules, summaries, milestones, and critical path highlighting to let you manage all your activities. From customizable views to fast data entry, OmniPlan helps you manage complex projects without requiring you to learn a complex software program.
Features:
OmniPlan 3 Functions
Catch Up - Have an all-hands meeting and everything going as planned? One button to update progress across the board.
Keyboard Support - Full keyboard support isn't just on Mac. Work out a plan even faster with hardware keyboard shortcuts on iPad.
Filtering - Fine-grained controls allow you to concentrate on specific tasks. Focus on specific resources, high priority tasks, date ranges, and more.
Violation Resolution - Scheduling violations are marked if they occur, and OmniPlan suggests ways to fix them.
Leveling - OmniPlan can automatically optimize your resources and tasks throughout the project to help finish on time.
Split Tasks - Maximize resource efficiency by allowing OmniPlan to split individual tasks when leveling.
Critical Path - Highlight the important tasks that have a direct influence on the finish date of your project.
Export - Share your project in a variety of formats: plain text, iCal, images, and more.
Multiple Baselines - Set multiple baselines--snapshots, if you will--for each project, then reference them later to track progress.
Network Diagramms - A brand new way to visualize the flow and dependencies of your project. Zoom in. Zoom out.
OmniPlan 3 Pro Functions
Change Tracking - Know precisely what changed and by whom. Enable Change Tracking to approve or deny changes from others.
AppleScript - Use our vast AppleScript library to automate all sorts of things in your Plan.
Earned Value Analysis - Use OmniPlan's built-in EVA formulas to get a grasp on budget and value. Set a Baseline and track progress.
Microsoft Project Import/Export - OmniPlan supports importing and exporting Microsoft Project® 2013 and earlier files.
Monte Carlo Simulation - Run hundreds of simulations with a click. OmniPlan predicts the likelihood of hitting milestones on time.
Multi-Project Dashboard - Put together a hub for the projects you choose. Multi-Project Dashboard focuses on Resource Load and easy-to-understand visuals.
Pretty Reports - Customize your report's styles 'til kingdom come, or use one of our beautifully modern built-in sets.
Publish & Subscribe - Bring in teammates' calendars to avoid overscheduling. Publish a report on save. Share with a team. And so much more.